The Wenatchee Valley Chamber of Commerce is a membership organization that serves to represent and promote the interests of the businesses in our community. We engage with community partners and offer programs to strengthen the business climate in the valley. The Wenatchee Valley Chamber of Commerce also serves the community by promoting our area as a destination for business, sports, and leisure travel including tournaments, competitions, trade shows, corporate meetings, and conventions to maximize additional overnight visitors, visitor expenditures, state and local tax revenues, and job opportunities.
The Wenatchee Valley Chamber of Commerce champions our community's quality of life and economic vitality through collaborative leadership and sound business advocacy.
The Wenatchee Valley Chamber of Commerce is the leader in creating a more vibrant and prosperous business climate in our region. We unify our community around objectives that will strengthen and grow our local economy, build business diversity and improve our quality of life.
Business is an essential element of all successful communities. A community's ability to prosper rests upon the foundation of a healthy economy.
The interests of residents, businesses, government, educators and the not-for-profit sector are inextricably bound together. All have a stake in the community's success.
A regional approach to economic opportunities and issues is essential. For the region to be economically successful, the Wenatchee Valley must be economically successful
In the conduct of our work, we strive to be an advocate for business, improve commerce, and add value to our members; we will be visionary and open to all possibilities and act with the strength of conviction even in the face of adversity.
The Wenatchee Valley Chamber of Commerce is also under contract with the City of Wenatchee to provide destination marketing services for our area. The services include operating the Wenatchee Valley Visitor Center and Tasting room as well as promoting our cities and region in order to increase the number of visitors to our area. We strive to promote economic development by increasing visits from tourists, conventioneers and business travelers, which generates overnight lodging, restaurant visits and shopping revenues. This service is currently funded by a portion of our lodging taxes collected locally. We are responsible for the destination brand through travel and tourism marketing, media visits as well as overall brand awareness in our target markets.
Executive Director 
My wife Ronda and I knew with certainty while living an adventurous time in south central Kansas, that we wanted to return to the sunny side of Washington State.
Plus, my twin sister and I would talk about moving near each other someday and Chelan was our premium destination.
During our planned five year venture in Kansas, our realtor found lakeside property in Manson WA, and we jumped at the opportunity.
Chelan County has quickly become our home. The kindness of many, the wealth of activities, and a diverse cultural community has been a blessing. The Chamber of Commerce offers me the opportunity to serve the community that has welcomed my wife and I.
Favorite Apple: A brisk apple that fuses well with a strong cheese, crackers, layered prosciutto, and a red full bodied wine.
Favorite Quote: "If you follow the herd, people may mistake you for a cow." - Author Uknown
Director of Chamber Operations
Born and raised right here in the Wenachee Valley Chelsea is pretty young to have such an impressive resume. Chelsea started her career at Sangster Motors as the Customer Service Manager and five short years later landed at Weinstein Beverage as the Marketing Assistant. As you can imagine her community roots run deep, add to that her volunteer work with the Washington State Apple Blossom Festival and Festival of Trees and you have the makings of a "true local". Chelsea chose to stay right here in the Valley with her husband Chris (whom she met in ninth grade) to raise their two daughters. Her hobbies include golf, camping, and wine tasting. Joining the team at the Chamber had a lot to do with her strong sense of community service and a passion for being a part of the future of Wenatchee.
Favorite Apple: One of the best things to happen in the world of apples here is the Sweet Tango, just ask her.
Favorite Quote: "People will forget what you said, people will forget what you did, but people will never forget how you made them feel." - Maya Angelou
Destination Management and Marketing Organization Director
Ashley grew up in Pendleton, OR home to the Pendleton Woolen Mills and the Pendleton Round-up and Happy Canyon. Ashley received a Bachelor's in Business Administration with a concentration in leadership, organization and management from Eastern Oregon University. She pursued postgraduate studies at Gonzaga University and launched her career in non-profit public relations in Spokane, WA. Ashley moved to Wenatchee in 2014 where she quickly became involved in the community with the Women's Service League of North Central Washington. You may know Ashley from her work at the Wenatchee Valley Museum & Cultural Center where she spent five years sharing her passion for Wenatchee Valley's people, history and culture through community partnerships, cultural celebrations and social justice initiatives. She stays busy raising two active boys and in her free time, Ashley enjoys the outdoors through running, hiking and painting. Her artwork has appeared in shows in Wenatchee and Leavenworth.
Favorite Apple: Honeycrisp
Favorite Quote: "The pessimist sees only obstacles. The optimist sees only opportunities. But the realist sees the possibilities between the two. And that's what we must be. We must be people of the possible." – Richard Stearns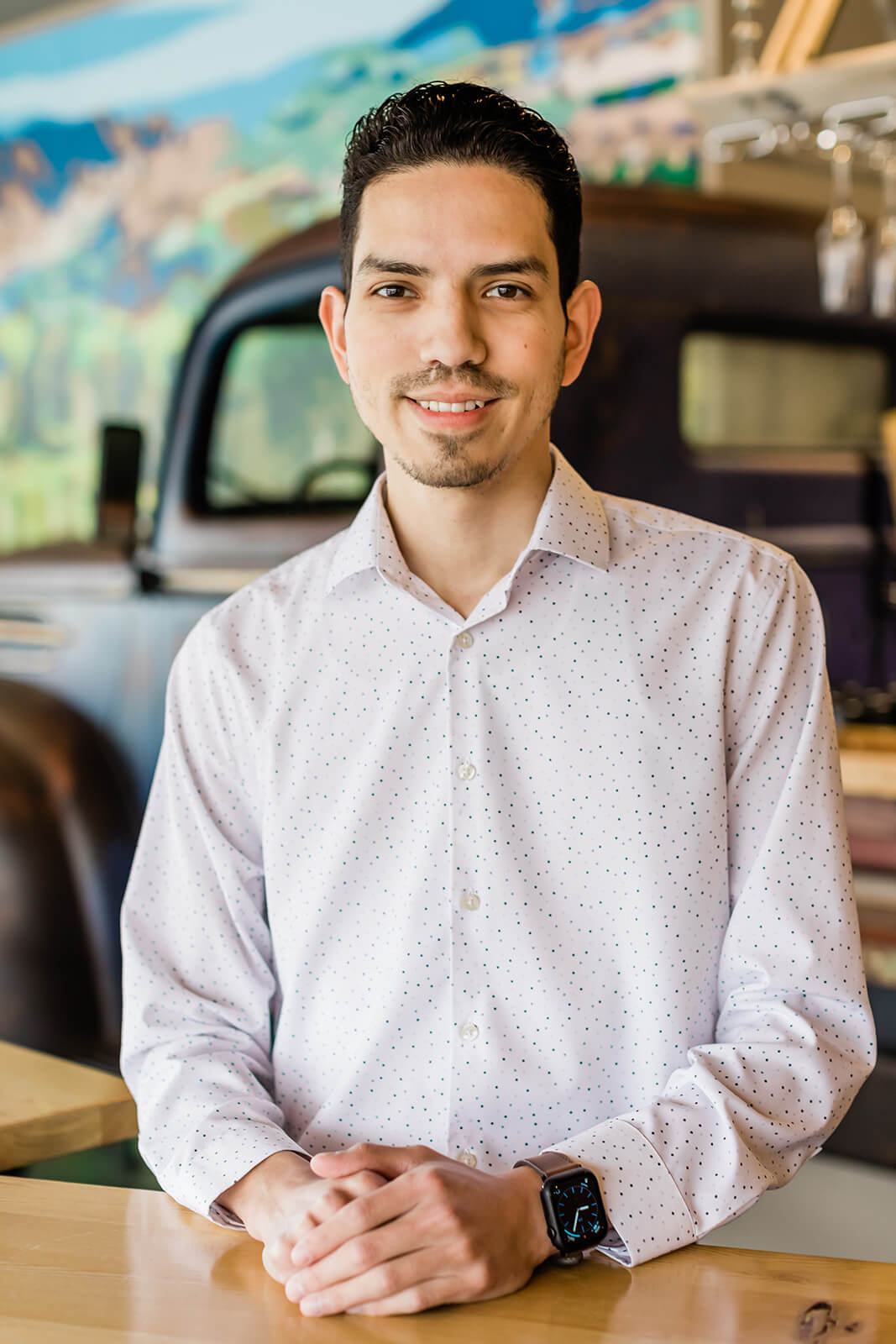 Membership and Events Coordinator
Christian grew up in the Wenatchee Valley and is glad to be back after obtaining his Bachelor's degree in International Business and Marketing from Eastern Washington University in 2020. He is passionate about helping small businesses succeed and helping his community grow and prosper.
Christian has a dog named Buster and a cat named Panther. His favorite sports team is the Seattle Seahawks. In his free time, he likes to learn new skills, volunteer, go hiking, running, and spend time with his family.
Favorite Apple: Granny Smith
Favorite Quote: : "We must be impatient for change. Let us remember that our voice is a precious gift and we must use it." – Claudia Flores
Business and Community Relations Coordinator
Teddy was born in Portland but has lived his whole life in Washington State. After graduating high school, he went on into the workforce. As many of us have, he started his working career at Starbucks and worked there for 6 years. During his time with Starbucks, he and his husband opened their business, a yoga studio, in Seattle in 2015. After a few years and wanting to expand they looked to the wonderful Wenatchee Valley to expand to a new location. Their second location, many of you will remember The Yogi Grind, was a pillar of our community for the 3.5 years it was in operation. During all this time serving the community became integral to his personality and now plays a huge role in his new position here at the Chamber of Commerce.
Favorite Apple: Cosmic Crisp
Favorite Quote: "We all view reality through the prism of our own perception." -Yoga Sutras (Personal adaptation)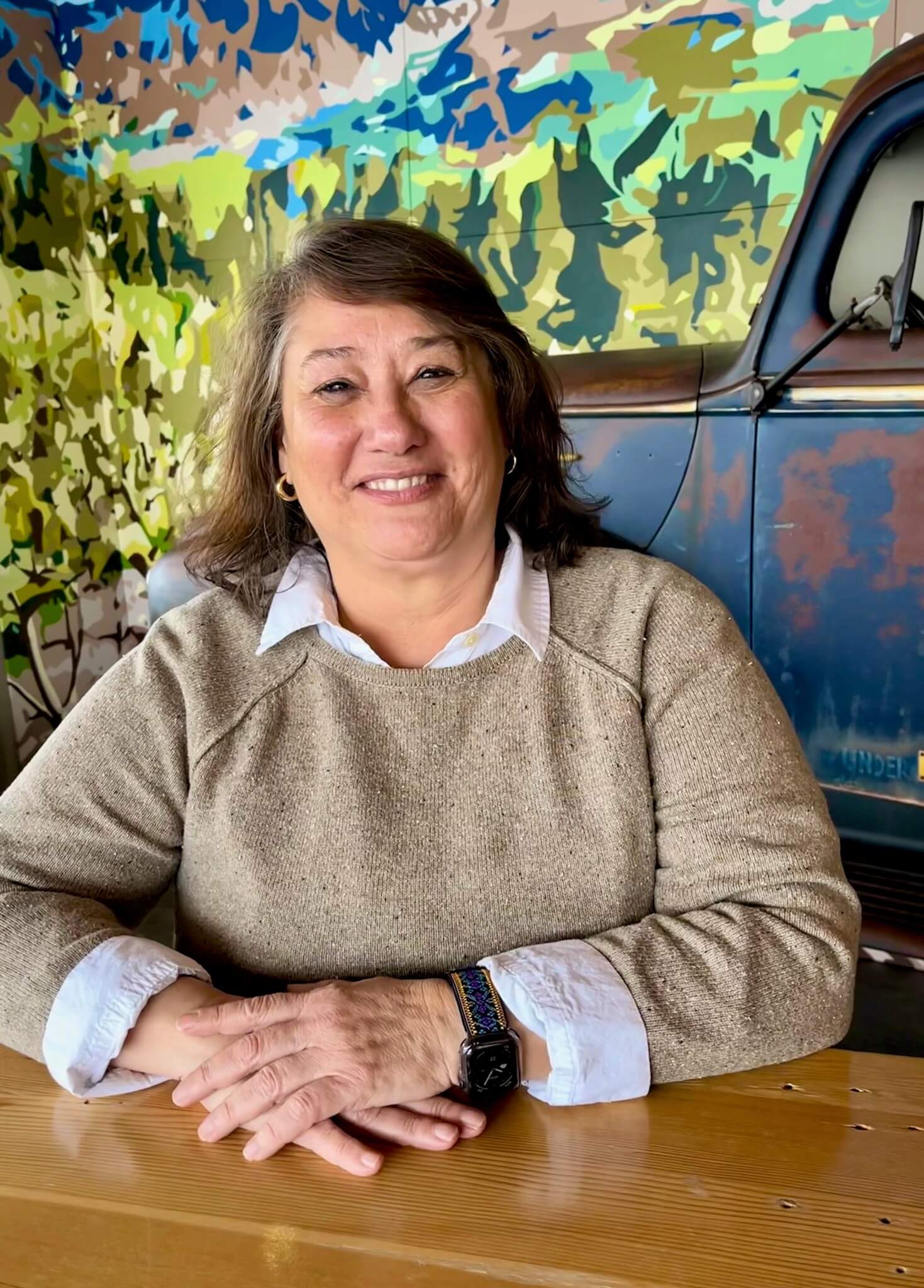 Visit Wenatchee Marketing Coordinator
Eighteen years ago, Jill wanted to go on an adventure.  She, her husband and 3 children packed up their home in Goode, Virginia and headed to Wenatchee.  After years of homeschooling, she took a job in the Education Department at the Wenatchee Valley Museum and Cultural Center.
When adventure called again, she moved down the street to the Wenatchee Valley Chamber of Commerce as a Marketing Coordinator.  Jill shares her Wenatchee home with her husband, a psycho dog named Butters, and 2 cats.
If her name sounds familiar, it's because she has worked on several shows for Music Theatre of Wenatchee and Wenatchee High School.
Favorite quote: "Be decisive.  Right or wrong, make a decision.  The road of life is paved with flat squirrels who couldn't decide."  - Unknown
Favorite apple:  Smitten – for sure!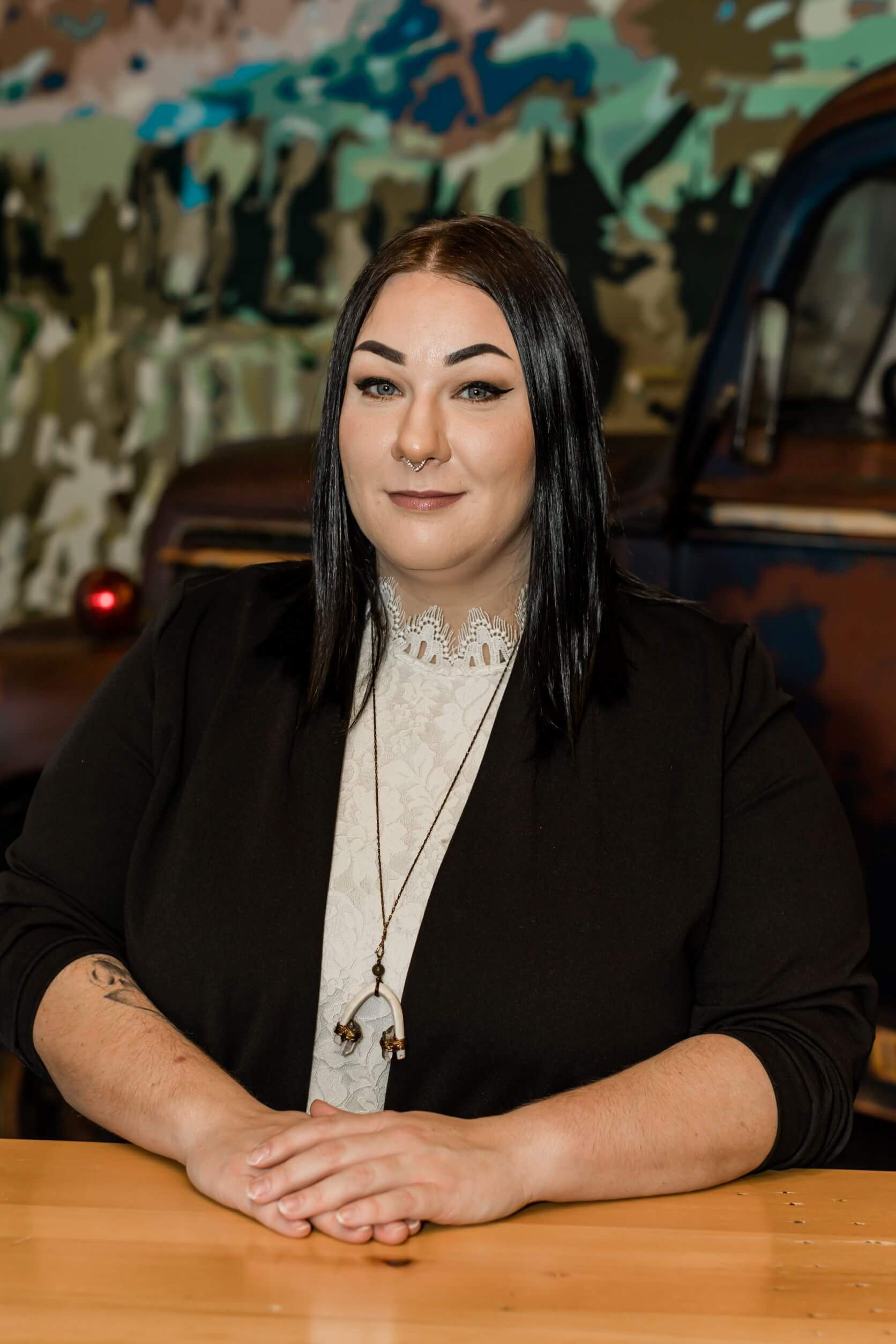 Visitor Center and Tasting Room Manager 
Hailey was born in Wenatchee and raised in East Wenatchee. After graduating in 2010 she interned with the Wenatchee Downtown Association. "I truly loved walking downtown and visiting all the shops, but it wasn't until I worked with the WDA that I learned what it meant to support our community and the families involved. The support for our local business is truly impressive and it shows with how successful and beautiful our historic downtown has remained through time. I am thankful to be part of such a strong community." She has worked in hospitality, customer service and in support roles for most of her career and she prides herself on seeing things through, going above and beyond and most of all, doing good work.
Favorite Apple: Red Delicious "When I was little, my grandmother managed Taplett Fruit for years and when she came home from work, she always smelled like red delicious apples."
Favorite Quote: "There is a heaven on earth that so few ever find, through the maps in your soul and the roads in your mind."  - Dan Fogelberg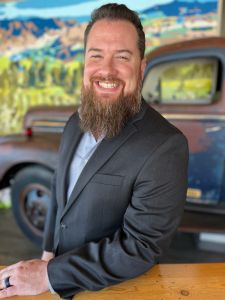 Sports Tourism Coodinator
Jason is an Oregon-born adventurer who grew up on the west side of Washington State. With a decade of experience in the hotel industry, he eventually decided to move closer to his family, embarking on a new chapter in Wenatchee. Having spent countless joyful moments exploring the Wenatchee Valley during his childhood, Jason knew he loved it here and would one day make it his home.
From a very early age Jason's heart was also captivated by the world of sports. Whether he's actively participating, coaching or enthusiastically cheering from the sidelines, his passion for athletics knows no bounds. In 2020, he and his wife became Billets for the Wenatchee Wild, forming enduring connections with players and their families. He sees sports as a community bringing diverse individuals together, providing valuable life skills that extend far beyond the playing field.
When not immersed in the world of sports, you can find Jason honing his culinary skills in the kitchen. Cooking is a hobby that allows him to express his creativity and savor flavors from around the world. However, once the competitive spirit calls, Jason is drawn to hockey, football, golf and tennis.
At home, Jason shares his life with his wife and beloved dogs, Kylo and Finn. He roots loud and proud for the Seattle Kraken.
Favorite Quote: "Hard work beats talent when talent doesn't work hard." – Tim Notke
Favorite Apple: Honeycrisp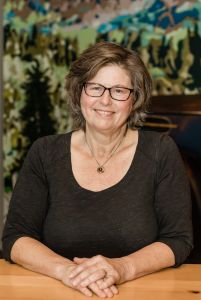 Visitor Center & Tasting Room Host
Patti has lived in the Wenatchee area much of her life.  A short stint at Central Washington University resulted in a BA Degree in Management. After completing her time in Ellensburg, she followed her heart back to Wenatchee instead of going with her friends to the westside and corporate jobs.  She enjoyed being a ski bum while working at Mission Ridge, until reality called, and she took a 'real job' in the local automobile industry.  Patti enjoys event planning and is a team builder who loves getting a diverse group of people together. She enjoys meeting new people and experiences and a nice glass of wine with a good meal.  Patti is also a serial volunteer in the valley which indirectly brought her to the tasting room at the Chamber, where she is learning about the local wineries in the valley.  You may also see her at the local Master Gardener annual plant sale or representing that group at the Home Show or Saturdays at the Pybus Farmers market. Come by the Chamber Visitor Center & Tasting Room for a tasting flight.
Favorite Quote: "There's a few things, about three, that I need each day. One of them is something to look up to, another is something to look forward to, and another is someone to chase." – Matthew McConaughey
Patti adds "Never by-pass an opportunity to learn something new."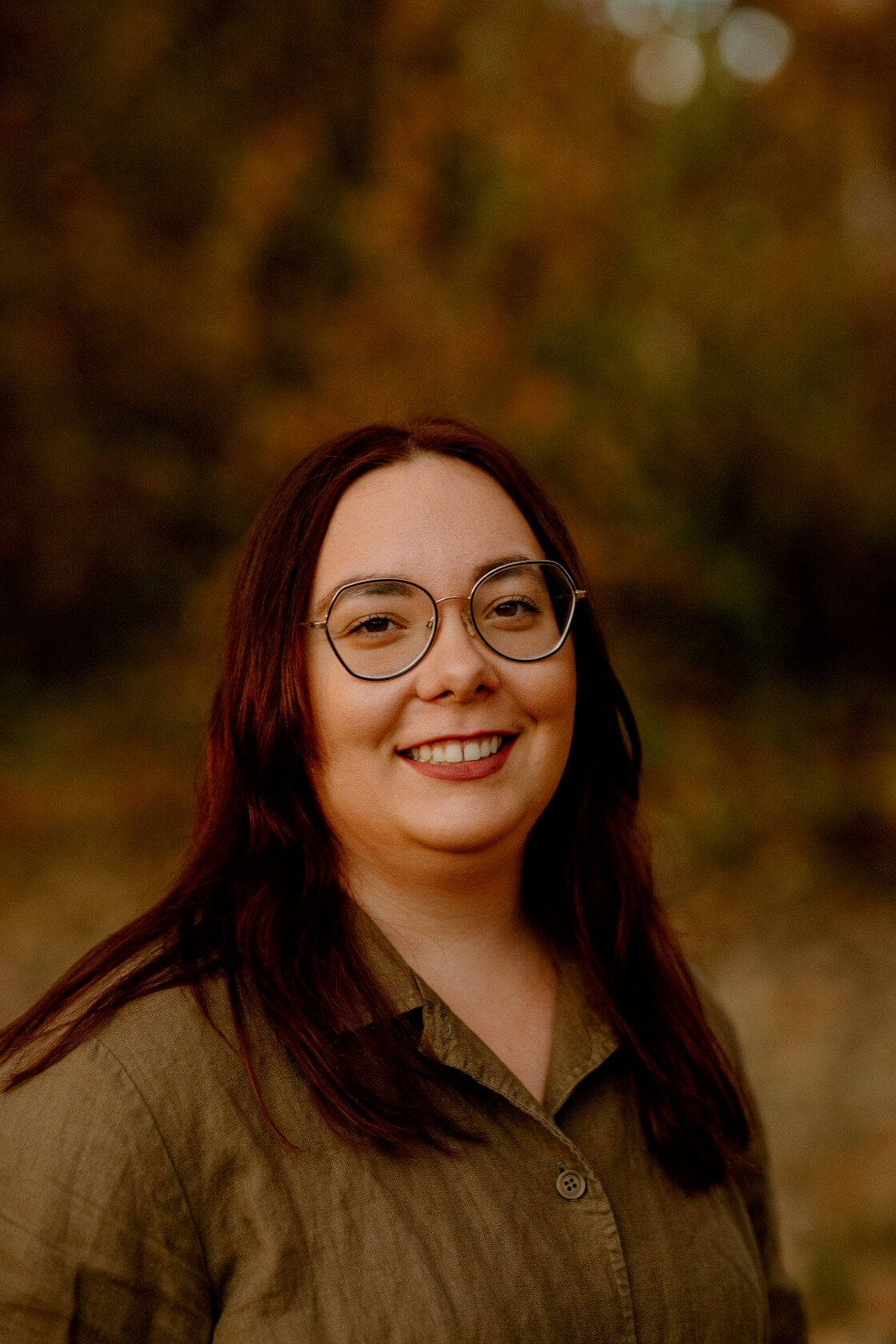 Visitor Center and Tasting Room Host 
Clarisse has lived in the Wenatchee Valley her whole life. She loves the sunshine and one of her favorite things is fresh produce like apples, peaches, tomatoes, peppers and corn. Asking her to pick just one favorite is too difficult! You can find her nearly every Saturday in the summer at the farmers market and walking the loop trail with her husband. Flashback cinema at the theater is also one of her favorite things to do. She loves to learn about our local wineries, cideries, and breweries. Wenatchee's growing cider scene holds a special place in her heart, she loves sipping a cider with her pizza! A self-proclaimed foodie, Clarisse knows the best places to eat in town.
Favorite Quote: "Dance to the music. Do not flop around, foam flying from your mouth. Be sturdy and full of hope." - Lord Birthday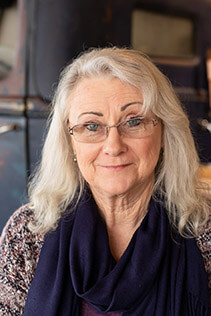 Bookeeper Extraordinaire
Linda grew up in Sacramento, CA and moved to Wenatchee with her husband and two children in 1990.  She has been a bookkeeper for let's just say a whole lot of years.  She is a part-time bookkeeper for four different businesses around town and loves the variety.  Her goal at work is to make everyone's job easier by doing her job well.  She has volunteered for several non-profits and likes to lend a helping hand wherever needed.  The love of camping, fishing, gardening, softball, and just being outdoors makes living here the best.  She is a dog lover, living with four of them and a cat.
Her favorite sports team is the Cowboys.
Favorite Apple: Golden Delicious makes the best applesauce.
Favorite Quote: "Do Justice, Love Mercy & Walk Humbly; Live WELL, Laugh OFTEN, Love FREELY" or
"Go ahead, make my day" - Dirty Harry via Clint Eastwood